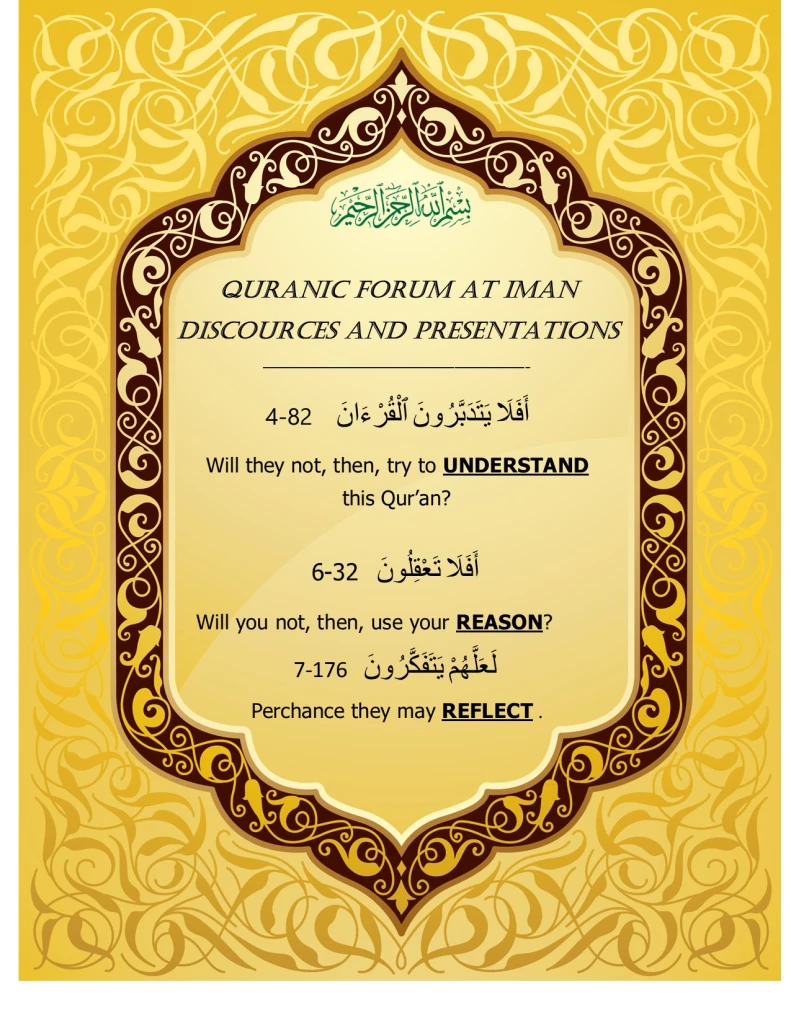 IMAN'S QURANIC FORUM SITE PREPARATION & INSTALLATION
ACKNOWLEDGEMENTS
DURING THE PAST 22 YEARS, MEMBERS OF THE QURANIC FORUM, INDIVIDUALLY AS WELL AS A GROUP, HAVE RECOMMENDED THAT DISCOURSES AND PRESENTATIONS DELIVERED TO THEM, BE PRESERVED IN PRINT AND/OR ON THE INTERNET, FOR USE BY NEW ATTENDEES AND/OR FOR REFERRAL BY MEMBERS. ALL PRESENTATIONS WERE AVAILABLE IN PRINT, BUT NOT HAVING THE KNOWLEDGE TO PLACE IT ON THE INTERNET, THE SUGGESTION REMAINED UN-IMPLEMENTED.
UNTIL MR. RASSOOL MALAYERY, WHO LIVES IN ATLANTA, GEORGIA, JOINED THE FORUM VIA ZOOM IN 2021. HE GRACIOUSLY OFFERED TO HELP IN ORGANIZING, READYING AND ASSISTING IN INSTALLING THE 22 DISCOURSES AND PRESENTATIONS ON AN INTERNET SITE.
AFTER 2 MONTHS OR SO OF DILIGENT WORK, THESE DISCOURSES AND PRESENTATIONS WERE MADE READY TO BE PLACED AS A SUB-SITE ON IMAN.ORG. DR. NAMAZIKHAH, CHAIRMAN OF THE BOARD AND PRESIDENT OF IMAN, AGREED TO THE PROPOSAL AND INTRODUCED MR. SHAMS, WHO VOLUNTARILY CARRIES OUT AND UP-DATES IMAN'S SITE, TO BE CONTACTED TO INSTALL THE FORUM'S DELIBERATIONS.
DURING THESE PAST 22 YEARS MS. ELHAM MAHOOZI, ADMINISTRATION MANAGER AND MR. HIRAD VAHDAT, COMPUTER CONSULTANT, AND MR. FREDRIC GREATLY COOPERATED WITH AND SUPPORTED THE FORUM'S SESSIONS, MAKING AVAILABLE SCREENS, PROJECTORS AND GENERAL ASSISTANCE FOR ORGANIZING THE PRESENTATIONS IN THE HALLS AT IMAN'S PREMISES.
FURTHERMORE, MRS. FARZANEH JAFARI, MRS. SHAHLA KAMRANI, AND MR. MOHSEN MEHRJERDIAN, ALSO PROVIDED ASSISTANCE DURING VARIOUS ACTIVITIES OF THE QURANIC FORUM AND THE REALIZATION OF INSTALLING THESE PRESENTATIONS ON THE INTERNET. DOUBTLESS WE ALSO OWE KUDOS TO THE MEMBERS WHO HAVE KEPT THE FORUM ALIVE WITH THEIR PRESENCE EVERY SUNDAY FOR THE LAST 22 YEARS.
THOSE WHO SHALL BENEFIT FROM THE CONTENTS OF THIS SITE ARE INDEBTED TO THESE INDIVIDUALS FOR THEIR CONTRIBUTIONS, COOPERATION, AND FINALIZATION OF THIS IMPORTANT TASK OF DEVELOPING AND INSTALLING THESE PRESENTATIONS ON IMAN'S SITE.
WE, AS MEMBERS OF THE QURANIC FORUM APPRECIATE AND ARE GRATEFUL FOR THE CONTRIBUTIONS OF EVERY PERSON NAMED ABOVE, FOR HELPING THE ACTIVITIES OF THE FORUM, AND TO MR. MALAYERY FOR SPENDING CONSIDERABLE TIME, WITH DEDICATION, DILIGENCE, AND SINCERE EFFORT IN PREPARING IT FOR INCLUSION ON AN INTERNET SITE.
HIS WORK HAS MADE IT POSSIBLE AND AVAILABLE TO A WIDER AUDIENCE IN SEARCH OF MORE ENLIGHTENED INTERPRETATIONS ABOUT THE MESSAGES OF ALLAH IN THE QURAN.
IMAN'S SITE QURANIC FORUM SITE PREPARATION & INSTALLATION - ACKNOWLEDGEMENTS, MAY, 31ST, 2022,, BY: HAMID ZAVOSH